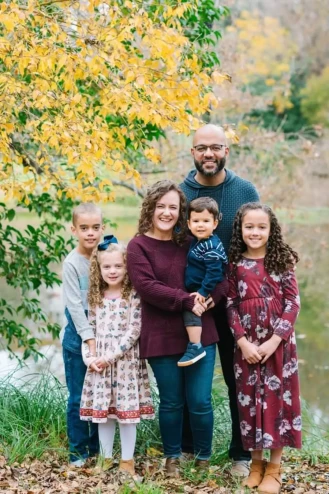 ---
5/28/2023 - Update from LJ
Aliyah had a good week! She has continued to improve with her overall physical movement each day with physical therapy. We were able to get the swallow study done. She did great and is now eating full meals! Close friends brought the new Blue Bell flavor, and we had an ice cream party on Friday! She also had Torchy's and Mod Pizza with some friends! Aliyah smiled a lot more this week. She has also laughed this week while watching a movie and with friends & family.
Thanks for praying! We feel like God certainly answered prayers from last week.
This week we are praying for her right eye. We are trying to figure our what's going on with her vision and her right eye seems to be giving her some trouble. We are also continuing to pray that her ability to speak would come soon. We are praying for her to have perseverance as she deals with frustrations during therapy.
---
FBG Family,
Please join us in praying for L.J. McCulloch, our Kids Pastor, and his family.
Over the past week, the McCullochs learned that their daughter Aliyah has a brain tumor that requires surgery. At this time the surgery has been scheduled for Wednesday, May 10th.
As a church family we want to support Aliyah, L.J., Bethany and the rest of the McCulloch family. It's absolutely appropriate to feel concern and seek to bear the burdens they are experiencing. We also acknowledge finding the right words to say and ways to exhibit support can often feel overwhelming or paralyzing. Here is some helpful information as we seek to serve this family well:
How to Support the McCulloch Family: If you have any questions or would like to express support to the McCulloch family, please contact Curt Sparkman, or Michael Sawyer, . Curt and Michael will be working directly with L.J. and a care team to assess and plan for the needs of the McCulloch family. In the short-term, please allow this team to serve as "gatekeepers" so L.J. and Bethany can focus on their role as parents. An excellent way to demonstrate your love for them right now is to write a card and drop off at the church office or send a note to Aliyah via email ( ). Please trust that we will update our church family at every available opportunity.

Grace Academy Families, Kasie Noble, and Shawna Sawyer, will be working to ensure the Grace Family is informed as well. So you may hear from them through those communication channels.
Kids Ministry Questions: If you have any questions regarding Kids Ministry in this season, please contact Abbey Pickel, . Abbey will be working with the FBG Ministry Staff and the Kids Ministry team to assess and plan for the needs within our Kids Ministry at FBG. Abbey is a phenomenal leader on our team and will not be alone in this season of ministry.
Day of Church Wide Prayer & Fasting: We will lift up our collective prayers on behalf of Aliyah and her family beginning Sunday evening. Our fast will begin on Sunday evening, and we'll commit to prayer and fasting throughout the day on Monday. Break your fast on Monday evening with a light meal, and celebrate the fact that God can be depended on to meet all of our needs!
The Lord is present and active in every aspect of this experience. We move forward in faith, knowing that Jesus' final return will serve as the ultimate confirmation that His love and work shapes every day of our lives.
Church family, pray fervently for the will of the Father to be done and for the Spirit's healing and comforting presence in the lives of the McCulloch family.


A note from L.J.
Church family, we are at a loss for words, but we have hope as we wait on the Lord. We are so grateful to have a church family who loves one another so well. We will need you in the days, weeks, and months ahead. Right now, we are asking that you pray for Aliyah. Pray for a smooth surgery with no complications. Pray that her trust in the Lord will be solidified as she faces the unknown. Pray that Aliyah's siblings will stand firm in the Lord. Pray for Bethany and me to find strength in the Lord. I have been praying Psalm 34 and Psalm 40 over our family. Please join me in that prayer. We have appreciated the support that you have already shown. Please refrain from asking questions for now as we will lean on Curt and Michael to handle communication. We love you all, and we know that we are not alone.