San Antonio Mission Trip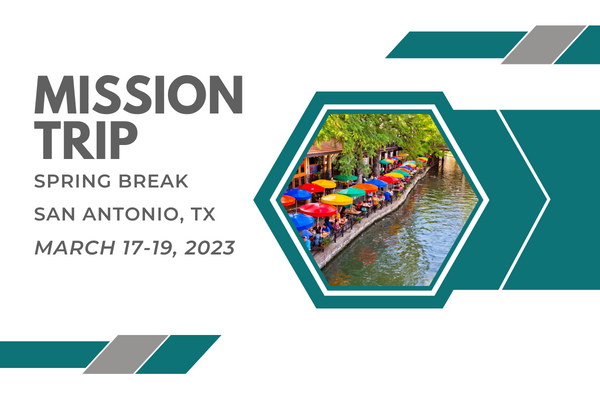 When: 3/17/23 - 3/19/23
FBG Family you are invited to join in as we support one of our church plant partners in San Antonio, TX. An online interest meeting will take place on 1/31/2023 and 2/6/2023 at 8:15 PM. Our detailed plans will be available at that meeting.
Here's a brief itinerary: Friday 3/17 - Travel to SA. Possible orientation with church planter, but most likely, just getting settled into accommodations. Saturday 3/18 - Team breakfast with church planter for orientation and overview of the day. Morning to early afternoon, canvassing for Easter and block party invite. Late afternoon, set up for block party. Evening, run block party. Sunday 3/19 - Worship with Pillar Church before team lunch and heading home.
This trip is perfect for families who want to serve but can't give up a full week of work. It's perfect for people of all generations in our church who want to work with others and meet new people. (All minors must have a legal guardian with them in order to participate. We won't have volunteer chaperones on this trip like we do on some of our student ministry mission trips.)
Ideally, we'll have 25-30 participants who can help with the following areas:
Door-to-door Invites

Grilling burgers and hot dogs. (Probably on a Blackstone, but maybe charcoal. Still working on that.)

Setting up and running various carnival games

Greeting, speaking with, and praying with those that attend

Praying with and for the leadership of Pillar Church
Cost: $20 per participant plus housing. Details in online interest meeting or via email request. (Please attend that meeting.)
The trip will be led by Michael Sawyer, our Mobilization Pastor. You can reach out to him at msawyer@fbg.church with any questions.